Equip yourself for the business and /or workplace of tomorrow using Katarzyna Ostasz's effective approach based on the Silva Method's system
Design Your Mind & Break Through Behaviour Patterns
1:1 Business Mentoring
Over the past eight years I successfully delivered a powerful programme and processes providing mentoring and coaching to solopreneuers, small and medium sized businesses
Leadership and Team Building Workshop
Unleash your team's potential. Boost productivity. Build high performance teams. Team building workshops that I'm specializing at are a fantastic way to boost collaboration and make quick progress.
Helping You Achieve Success
Unlock Your Full Potential. Say Hello to THE NEW YOU
Do you want to overcome setbacks in your career and personal life and face the workplace of tomorrow with a mindset that makes you a winner and a gainer in all situations? What do you want to have and do so you could feel free, so you could really break through the behaviours you've picked up from childhood? Have you ever looked upwards and wished for a life where you wouldn't feel the weight of other people's opinions on your shoulders, and not get pulled in different directions?
Let's go through the short diagnostic tests below and see how much healing your wounds need. Imagine we've carried out a reference check from your colleagues, family, and friends.  They've written their hearts out and the sticky notes are laid out on your desk like below:
"VICTIM" OF CIRCUMSTANCES
ROBOT, PROBABLY LIVES LIFE ON AUTO-PILOT
AWAYS HOPING FOR APPROVAL, THE DRAMA QUEEN
DROWING IN EMOTIONS AND DWELLING IN THE PAST
PASSIVE AND TIMID, NEEDS TO LEARN TO COMMUNICATE
Maybe the symptoms don't match your life but why don't you have a look at the benefits I offer? Do you want any or all of the following?
Entrepreneur, manager, or job-seeker, you want to learn how to think, how to build productive habits, and emerge as a new version of yourself, taking energy from the 'taints' you have.
Forge a new mindset that's going to make you a winner in the workplace of the near future.
Live life fully, take calculated risks, and take decisions to explore and enlarge your life's maps.
Find a source of creative power within yourself, so that you could always find a way out when it looks like impending doom.
Find abundance in your life, be it in wealth, disposable income, or relationships. Whatever you seek, find a way to find plenty of it in life.
Create the reality you wish to live in, not what others want you to live in and learn to direct energy to the important areas of life.
How do I do it?
Meta-cognition and quantum physics is the answer! Put simply, I coach the participants on how to observe their own thinking (meta-cognition) and how to imagine.  The participant's ability to imagine helps them create the reality they want. They break away from the cause-and-effect thinking – it puts pressure on them and they think they need to have something to be or do something. To elaborate, this type of thinking makes you think there's only one happy ending among many different choices in life.  Starting from the type of jobs you think you should have, the type of colleagues and friends you should have, the type of personal and professional relationships you think you should have like others, to volunteering to take the burden of guilt on your shoulders for not being good enough for the business opportunity, for not being worthy enough for a relationship – cause-and-effect thinking is always ready to make you smaller, and smaller.
I'd coach you on two essential things for your survival as an entrepreneur, manager, or even a job-seeker in the near future: right-brained leadership and intuition.
Right-brained leadership.
"Right-brained leadership? Look, I've got a training budget and unless this thing is going to give me an ROI I'm not up for it"– you might be thinking in your mind.  Let me ask you, do you want to work at less than one-third of your salary? With the advent of new economic powerhouses in the world, the rising trend of outsourcing, and advancements in Artificial Intelligence, technical jobs would be outsourced or given to Artificially Intelligent robots who would do it better and faster than you could. We have seen the most jobs being generated by the industries spearheading the changes. With jobs comes wealth and with wealth comes an economy where money circulates, and doesn't sit idle. The left brain is about logic, mathematics, orders, masculinity, sequences, and linear thinking. The right is about emotions, whole-picture thinking, intuition, acceptance, arts, and femininity.
"Intuition? Can I trust what you're saying?"
Intuition is what the big names like Richard Branson, Oprah Winfrey, Steve Jobs have openly endorsed and believes in when they want to achieve business results.   I know how you can nurture your intuition and use it. You stand to get benefited from it in these ways:
Fast and accurate decision-making:

when you get your flash of insight, you don't need to waste hours and dollars in takin decisions based on secondary data. You'll know it when you get it.
Creative problem-solving:

you don't have to solve any problem according programmed decisions. With your mind, you'd be able to tap onto information from many different sources, and establish connections between ideas previously thought impossible. 
Intuition is when you really know for sure about anything in the past, the present, or the future. It's when you don't need to think, analyse, or use your idea of logic and rationality to get knowledge about the subject. Maybe this sounds vague and abstract, maybe you still don't feel confident about really being intuitive or actually needing intuition in real life. Trust me, many people have a little bit of 'Clair' in them than you could imagine!  Some people's senses are naturally developed enough for them to receive flashes of insights whilst others could still learn to nurture them.  Let's decide, which sense you want to use when you receive your insights:
CLAIRVOYANT
You've done your analysis but still can't decide who'd be the best supplier for your company. After a few hours, You see a vision through your mind's eye while having lunch. You see yourself shaking hands with a specific contractor coupled with a feeling of 'that's right'.
CLAIRSENTIENT
You've got your dream job, but you still get a persistent, 'wrong' feeling about it. Your senses help you using feelings as indicators here.
CLAIRCOGNIZANT
When you get a strong feeling about 'knowing' the solution to a problem that you don't think you've come upon by extensive logical thinking.
CLAIRAUDIENT
You've been feeling exasperated looking for a job. While taking a walk outside to freshen up right after a couple of hours of job search, you hear a voice (from your inside) telling you the name of a company. You check their job portal and find that they actually have suitable vacancies for you.
The gifts we've talked about above are like calculator displays – we can see the results of our work there. However, how do you actually solve the problems? There are 5 ways one could approach any business problem:
Analyst
You suddenly know the answer to a problem you've been trying to solve but only after doing a significant amount of desk research. For example, you want to find out affordable housing for new recruits in your company and you dig up housing sites on the internet and prepare an excel spreadsheet. You've been inputting the data when you suddenly know which area you need to focus on.
Observer
You don't need to research to get that 'gut' feeling.  You start with observing people.  In the housing example, a simple grin or a grimace on the agent's face helps you jump several steps of logical thinking and suddenly you feel like you deeply know who is the right agent for you.
Questioner
You'd start with finding 'tangible', 'real' people and things – they lead you to the answers to your questions.  You find the answer while asking questions.
Empathiser
You'd be more interested to talk to the new recruits and really get a feel about how they feel about housing.
Adopter
Y

ou'd start talking to both the housing agents and the new recruits and try to get the general 'sentiment' of the groups.  You know who thinks what about the problem at hand.  You stumble upon the solution while being the conduit of information between the groups involved.
With intuition, whether you're an entrepreneur, a manager, or a job-seeker, it doesn't matter, you can expect to do the following:
Strengthen your relationships and improve your sales performance.
Find compassion and acceptance for yourself in challenging situations.
Find out solutions to interpersonal and intrapersonal conflicts.
Build your own customised practice schedule to get over excess timidity. Find true and deep reasons hidden within yourself to change and improve yourself.
Identify behaviours that gets you in trouble, or attracts toxic people.
In teams, find innovative ways to co-operate ultimately enhancing productivity.
About Katarzyna Ostasz
Certified Silva Method Instructor, Mindset Expert for Business Owners & Corporate Teams. Helping people awaken the hidden power of their mind & activate their intuition.
For almost 14 years, she has been learning from leading personal development and spiritual masters around the world, collecting the best tools for life transformation and developments.
Helped hundreds of people to improve their life for the better. Regular contributor of expert statements in the media. Successful YouTuber. Passionate about healthy life style, quantum physic, adventure and dancing.
"As an epigeneticist, I know how our minds can influence our biology. If you want to learn how to have the mind be your friend in creating miracles, this course is the one. We are all so powerful, but forget this, and this course actually reminds you how to be powerful.
Katarzyna, is an amazing facilitator, who has the ability to teach this content magnificently. She is compassionate, loving and so approachable. I not only enjoyed the course, but a few days after and I am already feeling the benefits of it on so many levels."
"The time spent on the course was some of the best investment in myself I have made in the recent years. It was transformational, relaxing and applicable to pretty much all areas of my life.
I have learned about the way our brain operates and how to use its potential to "create" our life the way we want it. The meditations and techniques are simple yet incredible and the magic that follows is contagious. Now I make my husband meditate – which is a big thing.
So far I have used the tools and techniques in work, relationship, to "book" a parking spot in a busy location – so pretty much everywhere.
This course is for everyone who wants to invest in themselves, take control of their life and change the mindset from life that is happening to me to create the life I want."
"Invest in yourself by attending Kasia's Silva courses! You will manifest many positive returns, even better and beyond your original intent. As a business professional, I sought from the Silva Method tools for increasing productivity and efficiency; techniques for learning, retaining, and recalling large amounts of technical knowledge; the capacity to stay relaxed, focused and in "flow" in high pressure situations; and the ability to serve my company, coworkers and clients more profoundly by tapping in to their true needs and concerns. Kasia opened the door to all of these aspirations! Her connections to and understanding of the business world make her an excellent coach for those seeking business related goals. But I promise you will get more – you will gain insight into yourself and faculties for enriching all aspects of your life. While my initial intent was business related, the Silva techniques in conjunction with my personal beliefs have rekindled my awareness of the beautiful mysticism of each present moment. Thank you, Kasia, for all you do!"
Team Building Workshop – Feedback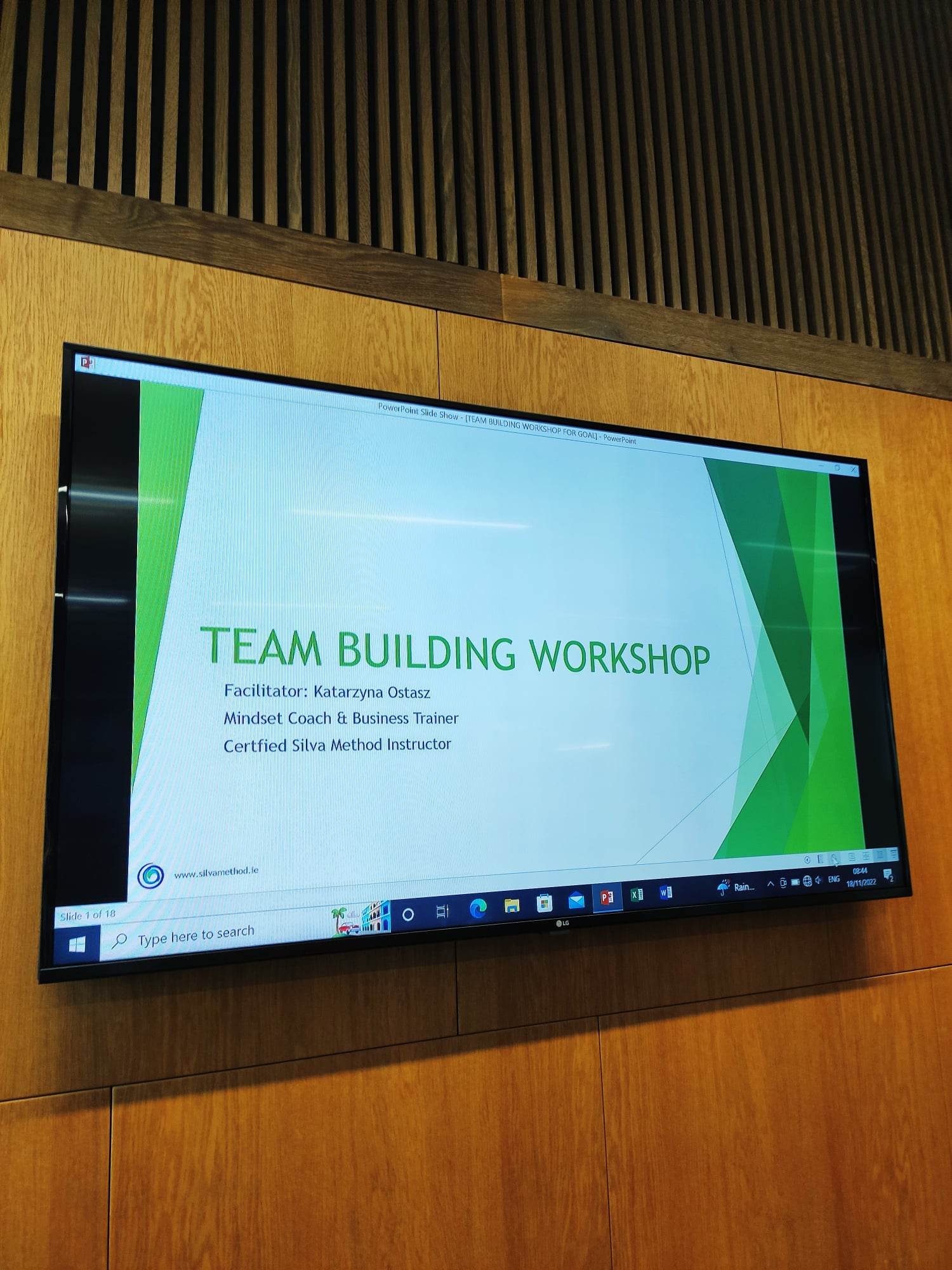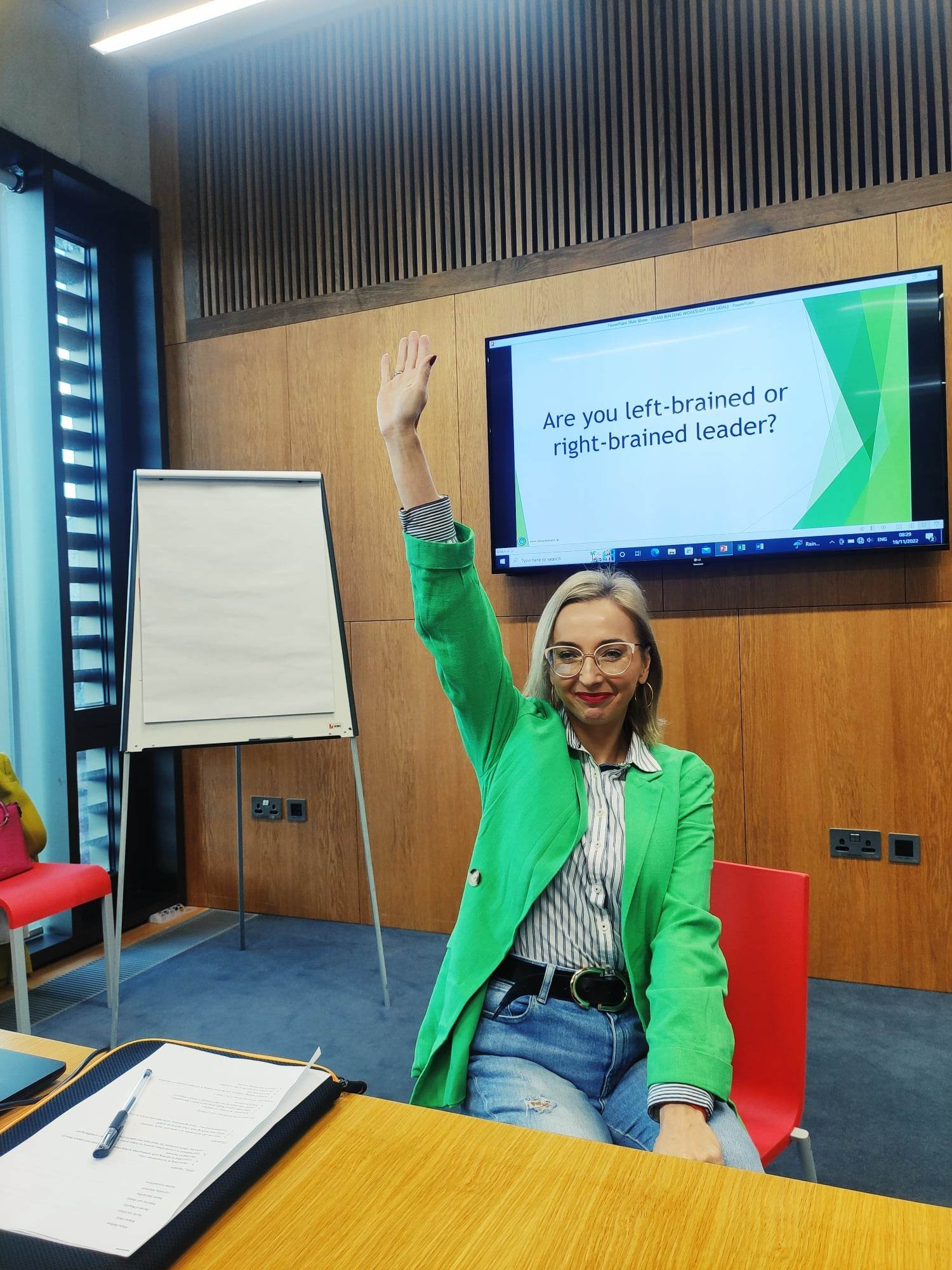 "The Middle East Regional team held a one day workshop with the aim of improving our communication and being better prepared to trouble shoot problems when the arise. For a team who works remotely in different countries and across different time zones, we felt this was especially important to improve our efficiency.
The team agreed that you had really understood the challenges we face very well, and took into account the contextual challenges we face working in conflict affected countries in the Middle East. The team were especially motivated to generate some solutions during your structured discussion and agree a plan for improving our ability to communicate not only about business critical issues but also about our team self-care and communicating our own needs without feeling self-conscious.
I specifically feel that the 10 point plan we put together rounded off the morning successfully and gave me a starting point on which our team can build. We are starting to use the techniques discussed in our daily and weekly interactions and I see the approach beginning to catch on with other teams too.
Your facilitation was powerful and positive and was just what we needed to get out of the daily grind mindset and remind ourselves that we can chose to do things differently if we put our mind to it."
Lorraine Marriott
Regional Director Middle East
Find Your Balance. Set Your Goals. Take A Challenge. Reward Yourself.